The Mozzartbet bonus system is rich and flexible. Players can expect different promotions and many targeted tournaments for participating in bookmaking with the service. To start getting the advantages, a gambler must register at the service only. It does not matter what kind of betting platform they use. Promo codes do not apply to the Mozzartbet bonuses either.
100% Bonus up to €400
Exclusive Mozzartbet Welcome Bonus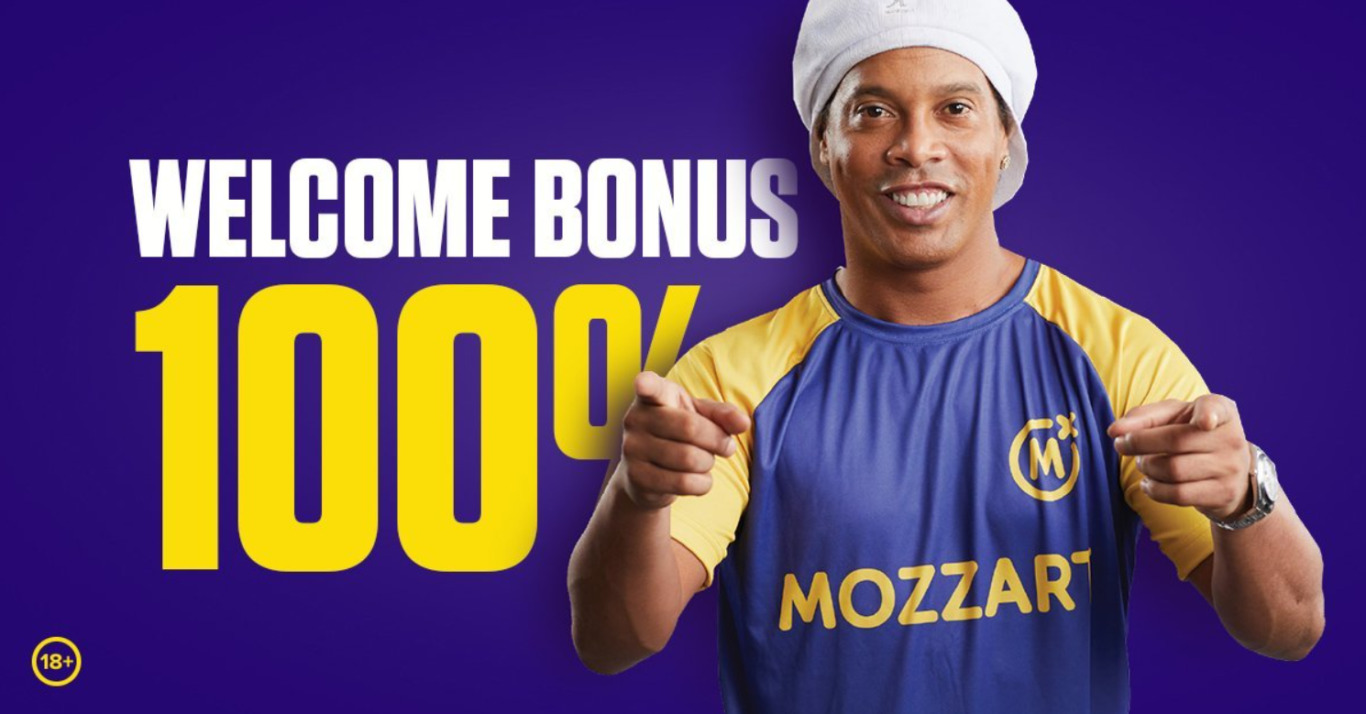 The first thing you should know when deciding whether you should join MozzartBet is that there is an exclusive Mozzartbet welcome bonus for new players from Kenya. It allows you to receive a 100$ bonus up to $400, a free bet worth $20, and 100 free spins upon your registration and first deposit. Registration bonus will be applied for any way of Mozzartbet registration or participating with bookmaker (live offices, desktop version, or mobile application). It's a truly exciting offer, so don't miss a chance to make good use of it!
100% Bonus up to €400
MozzartBet Bonus Advantages
Briefly speaking, all the promotions can be found on a separate website page. There are six different categories of offers. Everything that concerns a betting platform can be found in the categories called Betting and Virtuals. Also, there are some instructions and special options that will be described as well.
The first promotion concerns getting an automobile from a company. Winners must provide the longest successful multi bet. Only the stakes of at least four matches and more than fifty shillings can apply for the promotion.
Happy Monday Bonus is a form of loyalty reward of the betting service. Players must show the activity and update their accounts with deposits and bets. When the service notes it, a special bonus with no conditions becomes available every Monday. Players can claim and use it for a Mozzart free bet.
Mozzart Refund Cash Back can be applied to every player who has placed multi bets. If a single prediction in a multi-bet loses, you get refunded. The refund formula depends on the odds of every bet. The bigger they are, the more refunded money you get to the bonus account. Mind that refunds from this multibet offer must be qualified as the other bonuses of the service.
Top minute offer concerns live betting. Four times during a match, all the odds and coefficients are boosted.
Super Charged Odds is an exclusive promotion for those customers who like playing with big bets. There are three variants of the offer. They differ in the number of regular matches. This Mozzart bet bonus increases the chances to win and provides more money compared to single stakes on the same matches.
The first virtual promotion concerns a Golden race, a special mode in the section. Bettors are suggested to play the game, win, and score points. Three participants who scored more than others will be awarded cash prizes. The promotion lasts for a limited period of time, but it is repeated regularly.
Also, the pages contain some instructions with bonus rules or unique options you might not know about. For instance, the instructions show how the cashback program works. They explain the Quick Bet Ticket feature (an ability to transfer a virtual bet into live offices), SMS betting, and Fantasy Premier League rules.
100% Bonus up to €400
Enjoy Mozzartbet Jackpot Bonus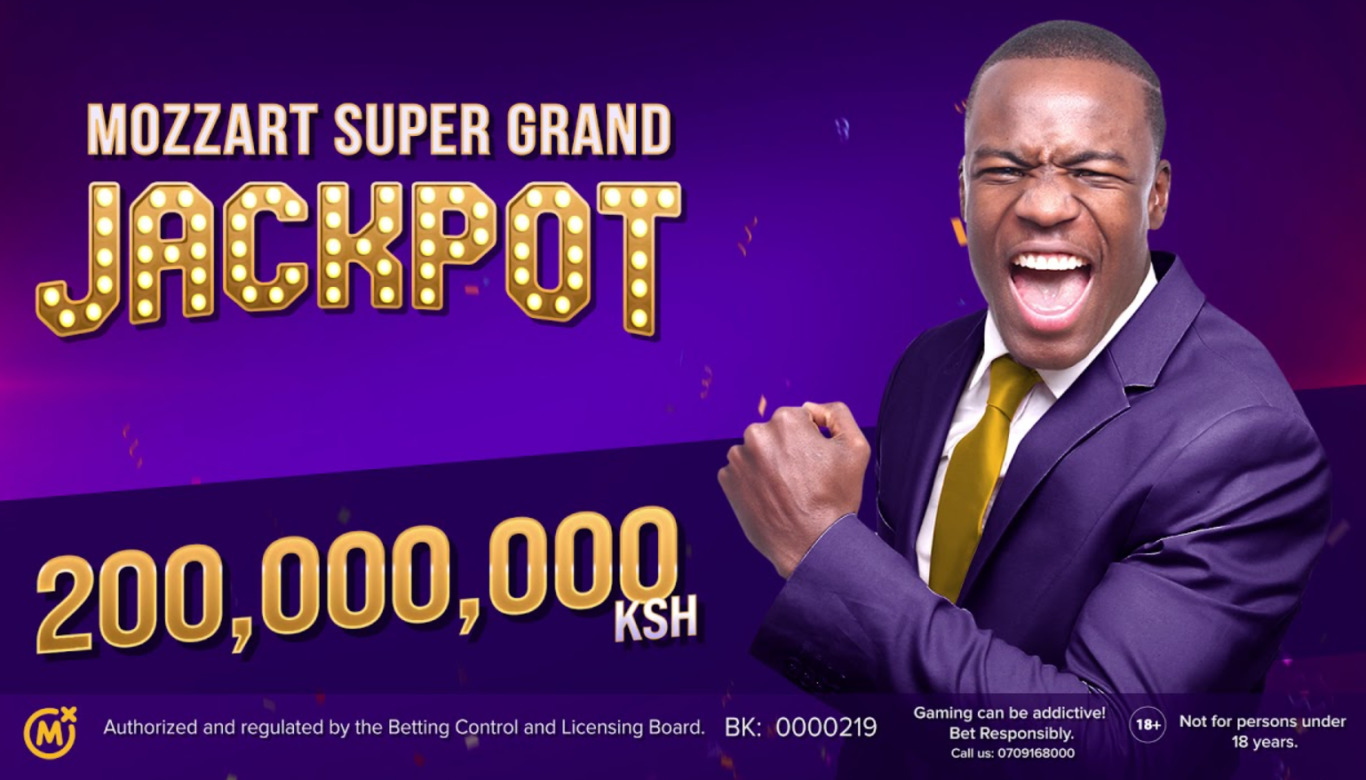 There are two sources of Mozzartbet jackpot bonuses available for the players. The first one is called Mozzart Super Grand Jackpot. It concerns betting. It is a double chance to win money, as there are weekly and daily jackpot options. To win, players have to predict the results of twenty selected matches. Also, there is a bonus for those who won a particular number of matches less than 20. The grand prize (200 million shillings for a weekly jackpot and 20 million for a daily bonus) will be divided between all winners. What is more, Mozzartbet jackpot bonus on a daily basis implies sixteen pairs to be guessed only.
The second Mozzartbet Kenya jackpot bonus concerns the casino games. It is a progressive jackpot divided between 33 slots games (their participation is indicated in the section). The Platinum jackpot can bring up to 23 thousand shillings, Gold award equals 850 thousand, and the biggest one is a Grand Diamond jackpot (2,300 thousand shillings). Mind that the progressive jackpot must accumulate, and it might not reach its limits.
There is the third eventual Mozzartbet jackpot bonus. It concerns live betting. You need to predict the results of thirteen football matches marked with a Jackpot sign. The main award is ten million shillings. However, the sum is not fixed. This jackpot will not be divided between all winners.
100% Bonus up to €400
MozzartBet Bonus for Casino Players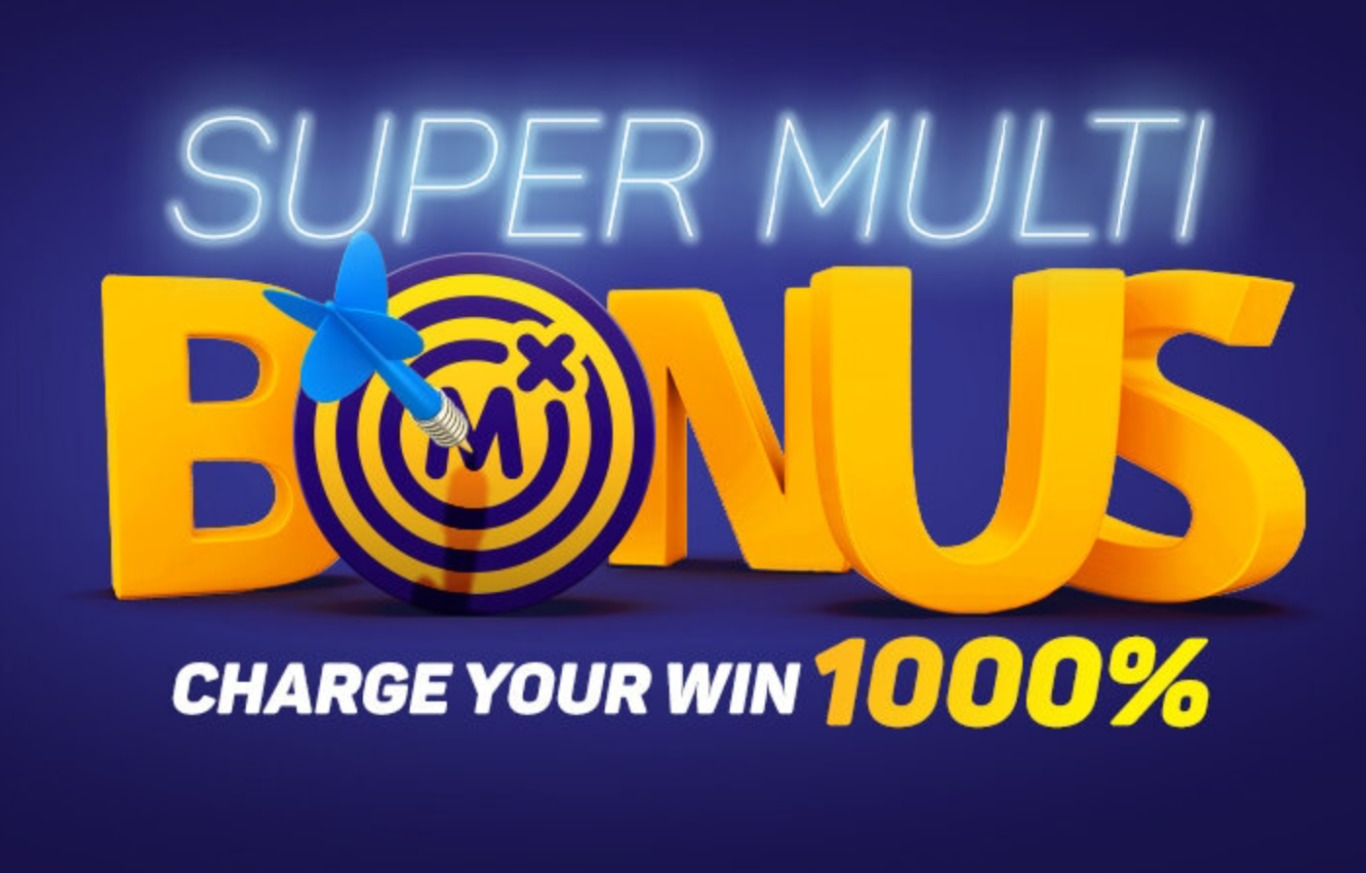 Casino Mozzartbet bonus concerns both video slots and casino live games. The first offer is called Happy Hours. It implies entering selected slot games and betting at least ten shillings. These actions will take a gambler into the Prize drops. Prices imply bonus cash and free spins for games. The prizes are given as soon as the promotion ends, and the prize table is formed. There is an opportunity to win more than one prize. This offer repeats every week.
Spin & Win is a tournament that allows winning cash for the Mozzartbet free bet. From time to time, it involves different casino games (roulette, blackjack, or others). Some offers might include selected games, like the Pragmatic Play Roulette Spin & Win.
Live Casino has four different offers. All of them imply different cash prizes for playing selected games. At the moment, there is a roulette promotion, Mega Wheel, and blackjack. Before you sign up for a bonus, read about the time of the tournaments. The casino Mozzartbet jackpot bonuses like Mozzart Slot party or Spin & Win have particular terms as well.
Finally, the last Mozzart bet Kenya bonus group concerns Mozzart keno and lottery games. Greek Keno is a gambling bonus that implies winning up to 10,000,000 shillings with a single draw. The money can be used for more free bets. You are to guess a particular set of numbers. Each one has special odds, and you will get a prize according to the quantity of correctly guessed numbers.
The Lucky Super Six promotion gives away lucky numbers. If a player wins in a game using one or several numbers, they can count on additional prizes. Their size depends on a particular lottery number. An exclusive Lucky G5 lottery is a form of additional Mozzartbet bonus. If players guess five numbers correctly, they can count on a jackpot reward (ten million shillings).
100% Bonus up to €400
MozzartBet Bonus Rules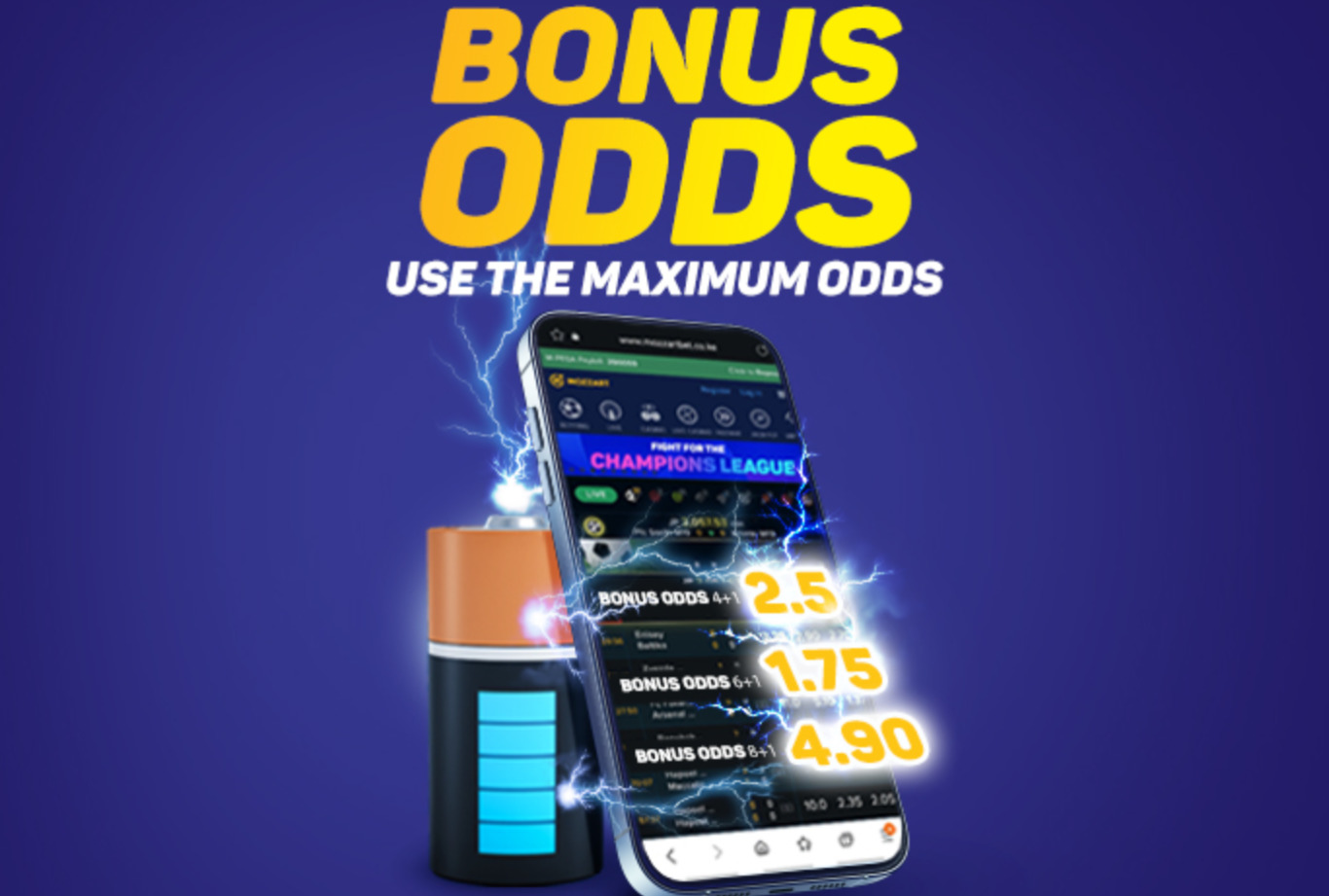 Most bonuses are active during particular terms of time. The time refers to Kenya time. Some bonuses, like free spins, must be qualified before being withdrawn. Qualification can be performed by playing casino games or placing bets with odds of more than 4.0.
What is more, all the offers are organized by Mozzartbet Kenya Limited. All promotions are liable only for players registered at the service and can be claimed only within it. If you do not know how to get bonus offers, head to the website. In the separate section, the instructions for each one are given. The bonuses do not require Mozzart promo codes but applying for them manually.
The company reserves a right to change the bonus conditions. It can refuse a player participating in the bonus. Each player can participate in a single bonus only once. However, it is possible to win several prizes in one promotion.
To conclude the review, let's find out the strong and weak sides of the bonus system. Some expired Mozzartbet bonuses are highlighted as active ones, so be careful with the rules. The promotions section is filled with instructions, which create an illusion of a significant number of active offers. As for the strong sides, the jackpots are significant. What is more, most of them are given individually or are divided between a few participants. The bonus system is far from perfect, but it develops and gives good opportunities.100% Bonus up to €400